Every New York State Home Needs Heating Service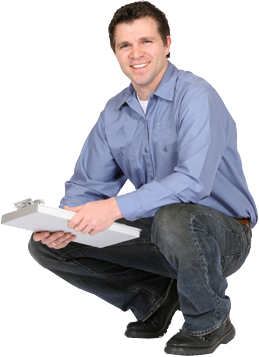 There is more to heating your home than buying fuel. Every heating system should be inspected and tuned regularly, and every home or business should have a plan for emergency repairs in the event of a heat outage.
Heating fuel systems should be inspected and tuned by a trained professional on a regular interval. That way, a technician can detect problems before an expensive repair is required. They can also optimize your system's operating efficiency and reduce your heating costs.
Given the cold climate and the threat of very low temperatures in New York, it makes sense for every home and business to have some sort of emergency heat coverage, such as a service contract. Many full-service Bioheat® Fuel companies offer plans that include routine maintenance and 24-hour coverage for heat emergencies. The cost of heating repairs is often much lower for customers who hold service contracts.
Service Plans
Also called maintenance plans or contracts, service plans are a convenient way to cover the annual costs of preventive maintenance, repairs and replacement parts for your heating system with one low payment. During the life of this agreement, at no extra charge to you, your full service Bioheat® Fuel provider will repair or replace specified parts of your system that may become defective due to normal wear and tear. The labor associated with these repairs is included at no cost to you, and some plans cover emergency service 24 hours a day, 365 days a year.
Dealers offer different levels of coverage to suit your budget and needs. Service plan coverage ranges from basic parts service and annual tune-up to all-inclusive, top-of-the-line plans that can cover the repair and/or replacement of over 100 parts and include replacement allowances for fuel tanks, boilers, heat exchangers or furnaces.
Most customers feel that the cost of a service plan is worthwhile just for the annual tune-up. Annual cleaning, tuning and testing can help to increase your heating system's performance and longevity. These valuable credits can be redeemed for a variety of products or as discounts on heating equipment repairs and upgrades.
A service contract also shields you from unexpected repair costs and can provide "priority response" over other customers not enrolled in the program. And most service contracts come with free Automatic Delivery. Some dealers even reward service contract customers with Loyalty Credits. These valuable credits are earned each year and can be used toward the purchase of a variety of heating equipment repairs and upgrades. Just call your local ESEA Bioheat® Fuel dealer today and find out how a service plan can help you to save money and give you peace of mind!
Automatic Delivery
Most Bioheat® Fuel dealers offer Automatic Delivery service free of charge for their price protection, budget and service plan customers. They use "degree day" technology and estimates based on your tank size and past consumption to schedule regular refills. They even take the weather into account when severe winter weather is forecast to make sure you will not run out. In the rare event that you do run out of fuel, on-call drivers will guarantee a fast fuel delivery and re-start your system on the spot.
Think of automatic delivery as a time-saver, which can ultimately save you money. There's no need to monitor your tank or notify your dealer when you are low on fuel. Your Bioheat® Fuel dealer is responsible for making timely deliveries based on the size of your home, the size of your fuel tank, and your estimated consumption based on past usage and day-to-day weather conditions. There's no wondering whether your fuel gauge is "empty" ... no worrying about your family's comfort ... and no waiting for the fuel truck to arrive.
Not all dealers offer every service mentioned. Contact your local Bioheat® Fuel dealer for more information on the services they provide.