Bioheat® Videos
B2 Bioheat®
Help the Environment with Bioheat®
Create Jobs with Bioheat®
---
Biodiesel Videos
Biodiesel Computerized Fuel Blending Demo

With the generosity of the Nebraska Soybean Promotional Council, Massachusetts Energy Marketers and Connecticut Energy Marketers Association and NORA, the following video was created to demonstrate the benefits of relying upon computerized blending of biodiesel with heating oil and diesel fuel.
Biodiesel Survey
The National Oilheat Research Alliance has recently released the results of a survey on the usage and potentials benefits and issues associated with the blending of traditional heating oil with renewable biodiesel for home heat use.
Currently, 5% biodiesel blends (B-5) are being used seamlessly across the oilheat market. Some heating oil fuel marketers are delivering B-20 to all of their customers and a few are delivering much higher blends. This blending into the fuel mix in this market leads to concerns about the impact on reliability and service.
Biodiesel is a well-defined standard fuel with quality programs in place. The stability of this fuel has been thoroughly studied. However, it is a relatively new fuel and to evaluate the impact that biodiesel use is having on service requirements, an on-line survey was completed in 2016.This is an update of a similar study conducted in 2012-2013.
The 2016 use survey was sent to three identified groups, including companies which have registered as users of the Bioheat® (biodiesel blends for heating applications) logo; company owners, presidents and general managers; and service managers. A total of 139 responses were received.
Overall, the responses do not indicate a clear technical area of concern with biodiesel use. Some respondents indicated increased service requirements, but the distribution of the technical areas was similar to those observed in surveys conducted before biodiesel use in this market.
Click here to see the entire report.
American Lung Biodiesel - Letter of Support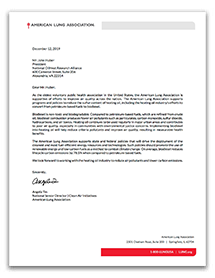 Dear Mr. Huber,
As the oldest voluntary public health association in the United States, the American Lung Association is supportive of efforts to improve air quality across the nation. The American Lung Association supports programs and policies to reduce the sulfur content of heating oil, including the heating oil industry's efforts to convert from petroleum-based fuels to biodiesel.
Biodiesel is non-toxic and biodegradable. Compared to petroleum-based fuels, which are refined from crude oil, biodiesel combustion produces fewer air pollutants such as particulates, carbon monoxide, sulfur dioxide, hydrocarbons, and air toxics. Heating oil continues to be used regularly in major urban areas and contributes to poor air quality, especially in communities with environmental justice concerns. Implementing biodiesel into heating oil will help reduce criteria pollutants and improve air quality, resulting in measurable health benefits.
Bioheat® FAQ
What is biodiesel?
Bioheat® - the industry's official registered name for the fuel blend - is a blend of ultra-low sulfur heating oil with renewable biodiesel made from organic and recycled products such as soybean oil, used cooking oils, inedible corn oil, canola, tallow, fats and algae. These renewable products are defined as "feedstocks" for producing biodiesel.

Blends of biodiesel in heating oil are designated in percentages. For example, a 5% blend of biodiesel is defined as B5. B10 refers to a 10% blend, while B20 is a 20% blend. The National Biodiesel Board has trademarked the term Bioheat® which includes the following categories: Bioheat® - blends up to 5%; Bioheat® Plus - blends 6-20%; Bioheat® Super Plus - blends 21-100%.


Is biofuel the same as biodiesel and Bioheat®?
No, the biodiesel blended into heating oil to create Bioheat® must meet rigid specifications set by the American Society of Testing & Materials (ASTM). These specifications are ASTM D396 - Standard Specifications for Fuel Oils and ASTM 6751 - Standard Specification for Biodiesel Fuel Blend Stock (B100) for Middle Distillate Fuels.

Biofuel is a broad term that can include various products including biodiesel, ethanol, renewable hydrocarbon diesel, and raw vegetable oil known as RVO or LR100. Raw vegetable oil does not meet ASTM specifications, is not biodiesel or Bioheat® and is not suitable for home heating oil use. The heating oil industry is committed to offering Bioheat® that is only blended with feedstocks that meet the ASTM specifications.


What are the benefits of biodiesel/Bioheat®?
The environmental benefits of biodiesel (Bioheat®) are significant. First, depending on the blend level, biodiesel lowers the carbon content of heating oil. Secondly, biodiesel is made from renewable, organic sources such as the oil from soy beans and used cooking oils. And research conducted by leading authorities such as the U.S. Environmental Protection Agency, the U.S. Department of Agriculture and the California Air Resource Board indicates that biodiesel/Bioheat® reduces Greenhouse Gas emissions (sulfur oxide, nitrogen oxide and carbon dioxide) from 50% to 86% compared to traditional heating oil or diesel fuel.

Additionally, research conducted by the National Oilheat Research Alliance (NORA) indicates that when ultra-low sulfur heating is blended with biodiesel at 20% (B20), this Bioheat® fuel significantly reduces Greenhouse Gas emissions making Bioheat® cleaner than natural gas.


Is there an acceptable blend level of biodiesel in heating oil?
Following extensive testing and research, ASTM, with support from the heating oil industry and the National Biodiesel Board, has set two standards for recommended percentage blends of biodiesel in heating oil. These percentage blend specifications are up-to B5 (5%) and B6 to B20 (6% to 20%). The heating oil industry along with the National Oilheat Research Alliance and the National Biodiesel Board are committed to introducing higher blends of biodiesel into the heating oil marketplace and these organization are conducting ongoing research on higher percentage blends of biodiesel in heating oil.


Does every gallon of heating oil contain a blend of biodiesel?
Under the federal government's Renewable Fuel Standard (RFS), which encourages the blending of renewable biodiesel in home heating oil and diesel fuel throughout the United States, heating oil may contain small amounts of biodiesel. (Retailers are encouraged to contact their wholesale suppliers to determine if they are or are not blending biodiesel at any given time.)


Do all retail heating oil companies sell Bioheat®?
As cited, because of the federal Renewable Fuel Standard (RFS) program, heating oil may contain a small amount of biodiesel. However, many heating oil companies in New York are offering their customers Bioheat® that contains blends of biodiesel at B10 (10%) and B20 (20%)


Does biodiesel make heating oil more expensive?
The cost of a traditional gallon of heating oil versus a gallon of heating oil that is blended with biodiesel is comparable in price at this time. Blending biodiesel in heating oil has not resulted in significant price swings in the cost of the fuel.


Where does biodiesel come from?
The feed stocks to produce biodiesel that meets ASTM specifications comes from soy bean farmers across the United States, from used cooking oils from restaurants and other establishments, and other operations that generate recycled, organic oils and fats.


Are there any tax incentives for a consumer using biodiesel in their heating oil?
Clean Heating Fuel Credit
If you or your business purchased Bioheat® fuel to be used for space heating or hot water production for residential purposes within New York State. Bioheat® fuel purchased on or after January 1, 2017, must contain at least 6% biodiesel per gallon of Bioheat® fuel to qualify for the credit. For more information visit: https://www.tax.ny.gov/pit/credits/clean_heating_fuel_credit.htm


Are there any tax or financial incentives for a retail heating oil company selling Bioheat® to customers?
Retail companies that purchase and blend B100 biodiesel into diesel fuel may qualify for the Biodiesel Mixture Excise Tax Credit a.k.a. the Blenders Tax Credit or BTC. This credit provides a tax incentive of $1.00 per gallon of pure biodiesel blended with petroleum diesel to produce a mixture containing at least 0.1% diesel fuel. For more information, visit: https://afdc.energy.gov/laws/395.


Are retail heating oil companies required to disclose to customers how much biodiesel is contained in heating oil?
It is considered a best practice for heating oil companies in New York State to disclose to customers how much biodiesel is contained in their heating oil. Many do so voluntarily to promote the environmental benefits of Bioheat® and to empower customers to claim the Clean Heating Fuel Credit.


Are there any state or federal laws mandating the use of biodiesel in heating oil?
New York State has a law requiring a minimum 5% biodiesel blend in heating oil sold in Westchester, Nassau and Suffolk Counties. New York City has its own law requiring a minimum 5% biodiesel blend. Currently there is no law requiring the use of biodiesel in heating oil statewide, though such legislation has been proposed with the support of the Empire State Energy Association.


Will biodiesel blends in heating oil reduce the overall heating capabilities of the fuel or heating oil equipment such as burners, boilers or furnaces?
Bioheat® blends of up to B20 (20%) will slightly lower the BTU (British Thermal Unit) capacity of a gallon of heating oil, but when Bioheat® fuel is comprised of ultra-low sulfur (ULS) heating oil (every gallon of heating oil sold in New York is now ULS) the fuel burns much cleaner and more efficiently. This reduces heating system maintenance and improves energy efficiency.